We project innovation in the
polymer processing market
At ISOLAGO, our objectives are focused on an increasingly demanding market, sensitive to pre-established solutions. We achieve the goals we set ourselves in a clear way: with tested, simple and concise methodologies.
As an innovative company, our lines of action are ruled by dynamism and flexibility, geared towards the satisfaction of our customers specific needs.
We produce Masterbatchs and develop projects across the entire range of polymer processing (film, injection, extrusion, blowing) with the rigour characteristic of excellence.
Excellence is also the common denominator of ISOLAGO's teams of specialists, whose culture of responsibility and effective involvement generates optimized performances at the level of results.

Our highly specialized and proactive teams put their skills at the service of customer satisfaction, in an approach of continuous improvement, design and development of new solutions for challenging projects.
The contemporary view of the management world shapes ISOLAGO's entrepreneurial attitude on a daily basis: we are strategic partners of your business, much more than just suppliers of raw materials. We are by your side in the improvement and development of new products and solutions that can add value to the productive process that truly matters: yours.

At ISOLAGO, we work daily to be the best partner in Polymer Processing solutions and Masterbatch production.

Numbers
55000
Ton/Year of
installed capacity
+ 340
Number of customers

2006
Starts the production and trade of masterbatch commodities in
PE, PP and PS

2014
Produces and markets thermoplastic compounds

2018
The production and trade of masterbatchs extends to PE, PP, PS, PET,
ABS and PC specialties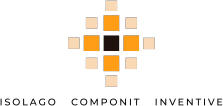 2019
Merger of the ISOLAGO and INVENTIVE production and marketing units of masterbatch commodities and PE, PP, PS, PET, ABS and PC specialties